Anna F. Doerfler Elementary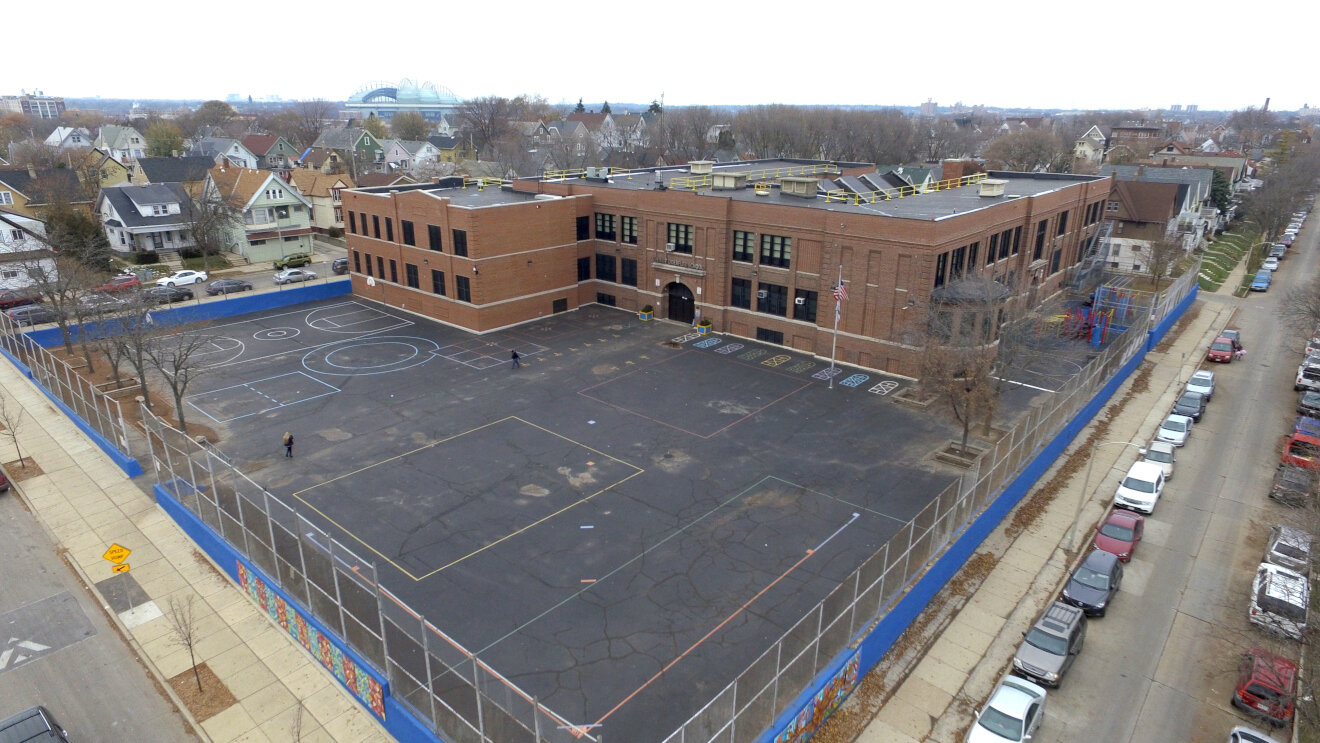 Anna F. Doerfler Elementary is raising funds to realize its conceptual green schoolyard redesign in 2020. The fundraising deadline is Dec. 31, 2019.
The plan calls for new outdoor classroom spaces, gardens, and green infrastructure. Stadium seating benches rising above a multi-use court for basketball and futsol are envisioned. A synthetic turf soccer field (1/3rd size) that is porous to capture stormwater, a shade sail system for the tot lot, new bike parking and benches, and a pedestrian bridge traversing the new bioswale are also proposed.
The plan does not remove every last square-inch of asphalt but rather strategically considers the most successful interventions from a human-movement and stormwater management perspective for this relatively tight space serving over 600 students.
Review the school's conceptual plan in greater detail, including designs, cost estimates, curricular connections, and maintenance considerations.
Doerfler's community-supported design is an excellent example of how dramatically we can make meaningful, measurable change even with severe site limitations. The design emphasizes the student body's interest in superior amenities for recreational sports activities like futsol, basketball, and soccer, yet we can meet this demand in a way that deploys green infrastructure to manage over 35,000 gallons of stormwater and also offers curricular and health benefits.
3014 W. Scott St.
Milwaukee, WI 53215
School Snapshot
K4 - 8th Grades

619 Students

90.6% Reduced Lunch
Timeline
2018
Conceptual Design
2019
Fundraising
2020
Detailed Design, Permitting, & Construction
2021+
Maintenance & Programming
CONTACT INFORMATION
Rhode Márquez-Feliciano
Principal, Anna F. Doerfler School
marquere@milwaukee.k12.wi.us
Justin Hegarty
Executive Director, Reflo - Sustainable Water Solutions
justin.hegarty@refloh2o.com
Through the conceptual planning process the Doerfler Green Team decided upon a theme of "community bridges" inspired by the changing demographics of the surrounding neighborhood and by the 35th Street viaduct that connects the north and south sides of Milwaukee.
Incorporating this theme into the schoolyard redevelopment will help to create culturally relevant curricular connections which further support students' learning about local social studies. Along this theme, the schoolyard redevelopment includes a mural depicting a timeline of cultures that lived in the neighborhood, a pedestrian bridge that crosses a bioswale, and graphics that speak to the differences and similarities of north and south side Milwaukee.
— from the 2019 Conceptual Schoolyard Redevelopment Plan