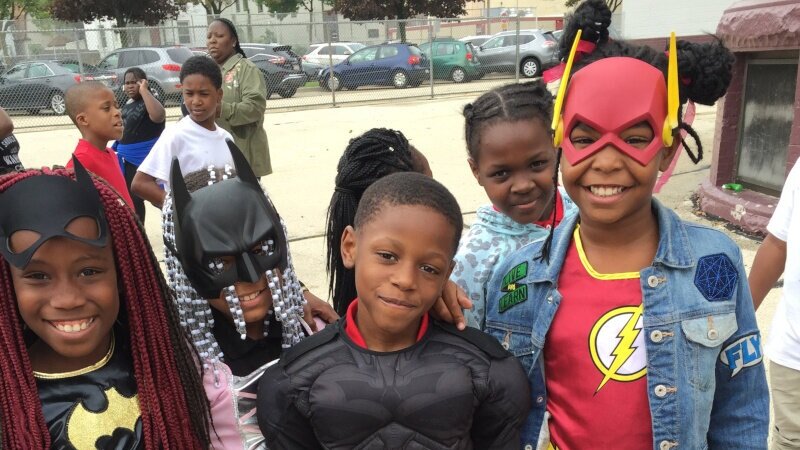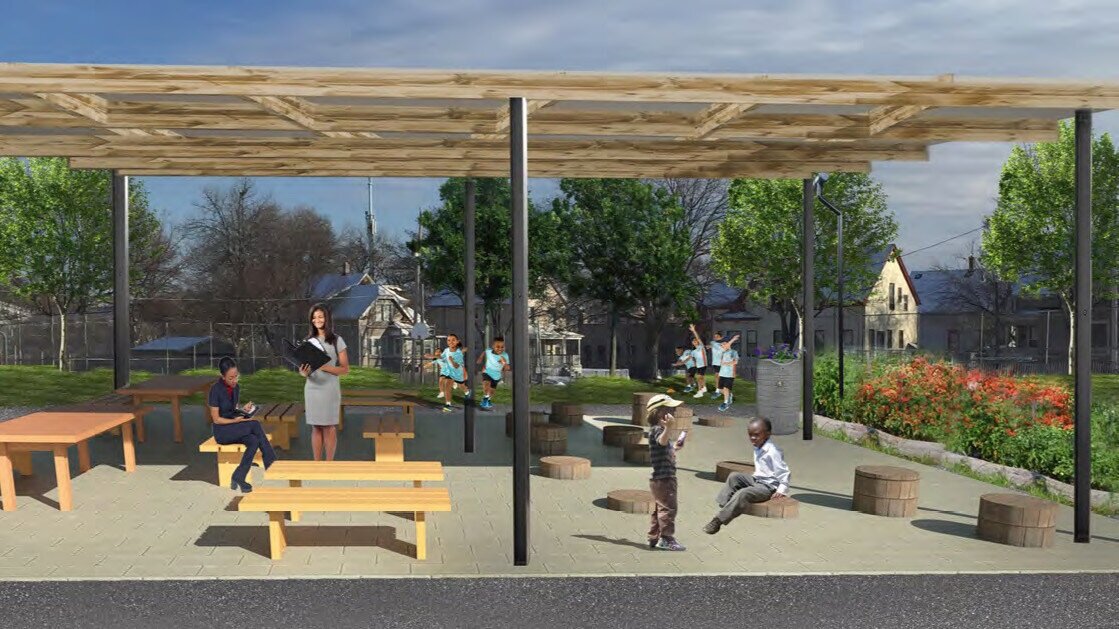 Westside Academy is raising funds to support the 2020 realization of its conceptual green schoolyard redesign. The fundraising deadline is Dec. 31, 2019.
The plan calls for an outdoor classroom with a covered pavilion that harvests rainwater to supply nearby raised-bed gardens. Solar panels could be installed on the pavilion. Over 31,000 square feet of asphalt will be removed and replaced with a turf ball field, a dozen stormwater trees, bioswales, and native grasses. Fences will be removed, bike racks installed, and a fruit orchard planted in the community-supported design which would manage over 38,000 gallons of stormwater with green infrastructure.
Conceptual Schoolyard Redevelopment Plan
Review the school's conceptual plan in greater detail, including designs, cost estimates, curricular connections, and maintenance considerations.
Three bioswales, a turf ball field, a fruit tree orchard, and outdoor classroom with rainwater harvesting pavilion would manage over 38,000 gallons of stormwater. Fences and asphalt would be removed, native grasses planted, and artistic signs installed to create a more welcoming space conducive to learning and usable by the public in Milwaukee's 30th Street Corridor.
1945 N. 31st St.
Milwaukee, WI 53208
School Snapshot
K3 - 5th Grades

218 Students

96.8% Reduced Lunch
Timeline
2018
Conceptual Design
2019
Fundraising
2020
Detailed Design, Permitting, & Construction
2021+
Maintenance & Programming
CONTACT INFORMATION
Mrs. Drane
Principal, Westside Academy
wrightrx@milwaukee.k12.wi.us
Justin Hegarty
Executive Director, Reflo - Sustainable Water Solutions
justin.hegarty@refloh2o.com
I am elated that Westside Academy was selected to become a green school in the 30th Street Corridor. This initiative will provide environmental education and other benefits to students, teachers, parents, residents, the community and the City of Milwaukee. Redeveloping the playground as a space where students, teachers, and residents can learn about the need and importance of stormwater management, different types of gardens, food systems, and participate in environmental-educational field trips are powerful learning experiences and opportunities. Many communities and students (especially of color), across the United States, are not provided these opportunities. I appreciate Justin Hegarty's and Mrs. Drane's leadership on this initiative.
— Delores Green, executive director, Renew Environmental Public Health Advocates, Inc.